SAFE AND SIMPLE EFFECTIVE DISINFECTING EQUIPMENT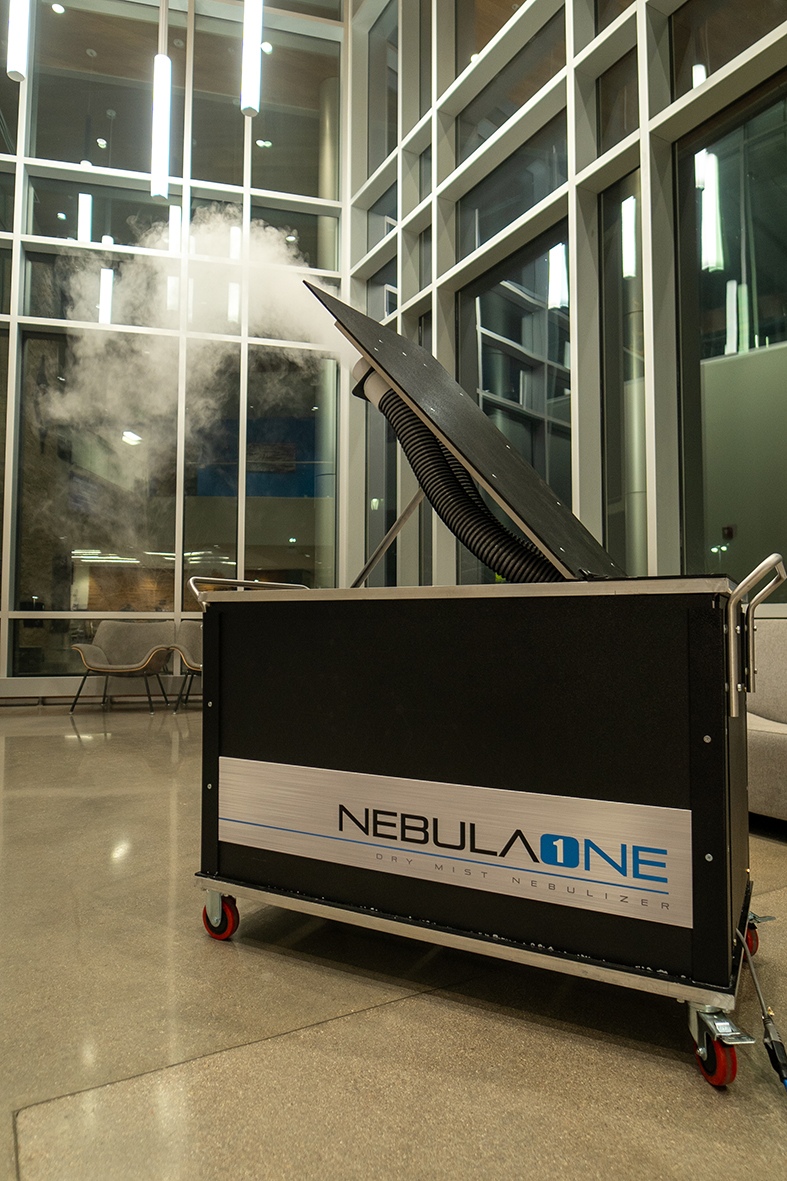 Arcus Manufacturing's New release of the NebulaOne™ High Capacity/Output Ultra-Dry Mist Nebulizer brings disinfecting to a whole new level. Engineered and Purpose-Built in the USA with a rigid aluminum frame and impact-resistant ABS panels, this Commercial Grade unit will easily disinfect One Million Cubic Feet in less than an hour. Event Centers, Arenas, Churches, School Campus, Medical facilities, and other high traffic locations can experience surface disinfection with the NebulaOne process.
The NebulaOne™ patent-pending technology of aerosolizing EPA approved Hypochlorous (HOCL) from a liquid into a microscopic or "dry" mist of only two to three microns suspends the hypochlorous in the air for hours killing and neutralizing harmful pathogens on all surfaces.
The NebulaOne™ is simple to use, runs for hours on a single fill, and is self-contained in an easy-to roll cart. Our UL approved electronic system makes this unit safe and reliable.
The NebulaOne™ machine is built to last, assembled and made from high quality products right here in the US of A. Our design built chassis includes a rigid aluminum space frame, smooth-rolling and non-marking ball-bearing casters, frame-mounted stainless steel handles, and is easily maneuvered into position by one person.
The NebulaOne™ has a self-contained liquid system that allows effective disinfecting, rinsing, and capture of fluid without hauling buckets or supplies. The 3.75 gallon HOCL and H2O tanks are custom designed using ABS plastic to give years of use. Minimal connection points within the NebulaOne reduce the possibilities of leaks for reliable performance with minimum service needs. With our custom gravity flow design, there are no high pressure fittings or pumps to service or repair leaks.
An uncomplicated touch screen's options for run time and disinfection mode keeps "simple" as the operative word. Countdown timers on the screen update the operator on status and remaining time in cycle. A rinse-reminder system notifies the operator of final steps before it's stowed after use.
Publication1 Nebula One Cut sheet Rev 2.75 (pdf)
Why is HOCL Safer v3 (2) (pdf)